| | | |
| --- | --- | --- |
| | Biographical Highlights: | |
Born in Michigan, USA (Swiss Citizen)
Musical training with degrees and diplomas in Michigan; advanced studies at University of Zurich, Switzerland, with Ph.D. in Musicology after writing a dissertation on Giuseppe Verdi.
Private conducting pupil of Hermann Scherchen in Switzerland during five years, later his assistant.
1953: beginning of free-lance conducting career (in concert, radio and opera) in Switzerland, Germany, Italy, France, Austria, the Scandinavian countries, Holland, Belgium and Great Britain. Guest conductor, repeatedly, of over 80 European orchestras. Frequent activity in nearly all European radio and TV stations. Known as expert for Bach, for Beethoven and for Mahler. Concerts in many international festivals, such as Berliner Festwochen, Holland Festival, Copenhagen Festival, Bergen Festival, Flanders Festival, Luzerner Festwochen, Covent Garden Festival London, Ascona Festival, Helsinki Festival, International Bach-Festival in Schaffhausen. 10 years conductor of Swiss Radio (at the Station Lugano) and Director of Department for Vocal Music.
Opera director in Basel- Switzerland for 2 years, then Trier-Germany for 2 years and regular guest conductor at the Holland National Opera in Amsterdam. Extremely vast symphonic and operatic repertoire, ranging from early baroque through classic, romantic to avant-garde, modern music, also including more than 60 operas.
Generally not so interested in the "business" of the CD-industry with constant re-recording of frequently recorded works, his discography displays some more rare compositions, such as by Joachim Raff, as well as the collaborations with especially noted soloists, as Heinz Holliger, Hildegard Behrens (with Berlioz and Ravel), and Sonia Theodoridou (with Italian opera arias). Furthermore, he has recorded some noteworthy contemporary music by Bo Nilsson, Isang Yun, Matthias Spahlinger, as well as some Swiss and Swedish music.
Aside from many performances of Schönberg, Alban Berg, Webern, Edgar Varese, Stravinsky, he is also known as a specialist for more recent, contemporary music, having conducted literally hundreds(!) of world-premieres, for example in four of the Annual World Festivals of the International Society for Contemporary Music (ISCM), in Rome, Zurich, Copenhagen, Helsinki, as well as in the elite modern-music series' in Berlin, Hamburg, Munich, Cologne, Oslo and Stockholm. 12 years President of the Swiss section of the ISCM. Founder of a specialized chamber group called "Hamburger Kammersolisten", with several tours in Europe and some recordings.
25 years' activity as Professor for Orchestral Conducting and charged with the Conservatory Orchestra at the Staatliche Hochschule für Musik in Freiburg/Breisgau, Germany. Some of his conducting pupils have taken their places in Germany and in the overall European musical scene: Arturo Tamayo, Douglas Bostock, Burkhard Rempe, Eberhard Dietz, Robert H. P. Platz and Leendert Runia.
1982/1984/1988: Concert tours to South Korea, Japan, China. From 1990 to 1995 residence in Tokyo with many concerts with Japanese orchestras and choruses, also Professor for Orchestral Conducting at Tokyo National University for Music and the Fine Arts. Recently also concerts and opera performances in Czech Republic, in Zurich, at Covent Garden in London, at the Bavarian State Opera in Munich, at the Teatro Colon in Buenos Aires Argentina and at the Teatro Real Madrid (click here for a picture).
After his musical activity in Tokyo from 1990 t0 1995, Travis has returned vitrually each year to Japan for engagements, including concerts at the Kusatsu Summer Music Festival in 2001 and 2006.
After having conducted numerous performances of J. S. Bachs "ART OF FUGUE" in an
orchestration by Herman Scherchen, Travis was engaged by the renowned publishers, Schott Music International as editor for the publication of the composition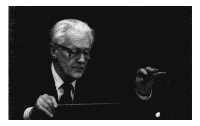 Click here to return to main page